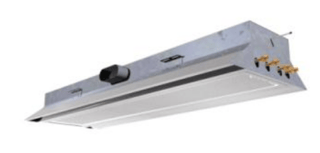 Active Chilled Beams (ACBs) are capable of delivering up to 1500-BTUs per Liner Foot of beam of sensible cooling when supplied with medium temperature (55°F-58°F) cold water. The same coil may be used for heating when supplied with hot water. In either case, air movement is induced by the primary air ducted in from the ventilation system. ACBs are compatible with virtually any ceiling configuration, save vertical space, and are extremely quiet. When applied correctly, they contribute to superior cooling, heating, and ventilating performance in highly efficient and comfortable HVAC systems. And, they do all this with no moving parts!
ACB's are essentially water coils in a box. The water pumping through the coil determines cooling mode or heating mode. They include specially designed air nozzles that create low-pressure zones to induce room air circulation. That is all there is to it. There are no filters, no condensate pumps, no consumable, and no moving parts. Coil access is easy through the hinged door. The recommended maintenance is to wipe the coil for dust every two to four years. It doesn't get easier than this!
For more information on Chilled Beams click on the button below.