Connecting packaged systems to existing equipment is one of the primary advantages of prefabricated pump systems. Installing new equipment at a facility typically follows two methodologies.
First, there is the stick-build approach, where each component is installed individually on the site and then connected once everything is built.
Second, a packaged system could be used. In this approach, all components and connections are fabricated and assembled offsite on a frame or skid. Following assembly and testing, the entire package is shipped to the customer location, where it is integrated into the facility's existing equipment hook-ups.
Choosing to use a prefabricated pumping system allows for faster project completion times because they allow for parallel fabrication at the facility site. Another significant advantage of a packaged system is the ability to manage the project through a single point of contact. It would otherwise be necessary to deal with several different manufacturers for each piece of equipment.
Finally, skid-mounted systems are, by nature, designed for a compact layout and on average, packaged systems have a smaller footprint than those assembled onsite. Their compact design lends itself to easier AND safer installation, too.
Pump'nFlo is a division of Heat Transfer Sales that builds modular skid-mounted hydronic systems consisting of multiple components delivered on a single skid. Since 1993, Pump'nFlo has built and shipped 900+ custom fabricated packages.
Why Pump'nFlo?
SAVE TIME: Let us do what we do best in system design and fabrication, while you focus on other parts of the project.
QUALITY ASSURED: Factory-trained and certified fabricators, along with 3rd Party Inspection & Approval, ensure a system that is ready to go and will run reliably for years to come.
CREATIVE & PRACTICAL: Innovative designs with service in mind.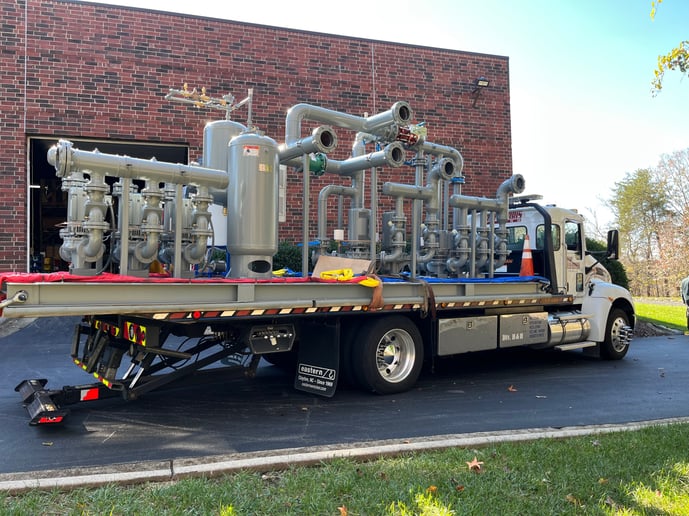 We lifted the Pump'nFlo skid shown above with a crate onto the truck, then placed the housing on top of it since this system will be outdoors.
This skid includes a ton of equipment, most notably three TACO pumps, a TACO expansion tank, a TACO air separator, and a Griswold Unimizer control valve.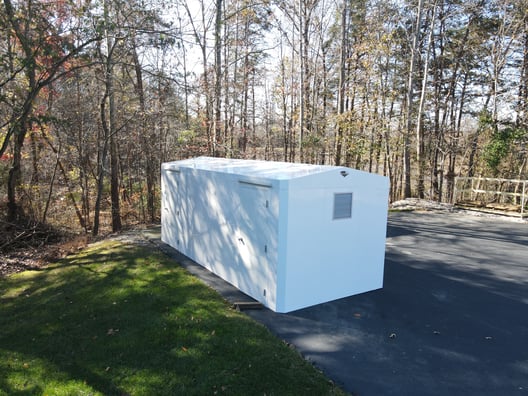 From simple pump skids to complex equipment integration, we design and build these systems every day. With our experience, you can rest assured that your mechanical room installation will be handled properly. Connect with one of our sales engineers today to learn more!