With the new federal minimum energy efficiency regulation scheduled for January 1, 2023, atmospheric boilers like Raypak's Raytherm boiler will no longer meet federal Department of Energy standards.
As of January 1, all purchased commercial air conditioning and heat pump equipment from 65,000 btu/h to 760,000 btu/h will need to meet an additional 15% efficiency increase from the 2018 ratings. Manufacturers like Raypak have been ramping up production of equipment designed to meet these new standards so that the updated boilers will be available come January 1.
For example, if you have atmospheric equipment like the Raytherm boiler, you may have already started the process of replacing it. If you have had virtually trouble-free use, you may want to replace the equipment with the exact product. However, with the new standards in place, Raypak has developed other products to meet your light commercial boiler needs.
Meet the Hi-Delta® line of products from Raypak
The Hi-Delta is a mid-efficiency line of boilers and water heaters ranging from 300 MBTUH – 2.3 MMBTUH. The equipment features simple multi-stage operation and fixed blower motors for reliable performance and easy maintenance. Applications for the units include heating for schools, hospitals, industrial processes, and more.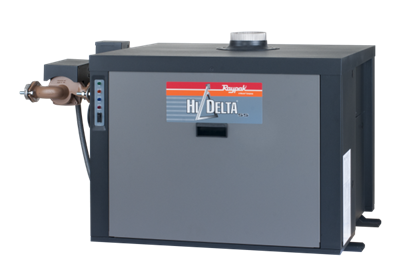 Features and benefits of the Hi-Delta line of boilers:
An innovative patented burner "security blanket" can help minimize equipment downtime and prevent metal fatigue, which occurs when metal parts are weakened due to repeated stresses. The patented security blanket could help extend the life of your Raypak boiler.
The products are direct vent capable. Ducted combustion air ready with rear vent option makes it an easier retrofit when needed.
You can vertically stack Hi-Delta units. This is perfect for small mechanical room footprints. Additionally, the indoor/outdoor construction offers waterproof controls.
Hi-Delta offers VERSA IC controls with LCD display. Raypak's VERSA IC integrates modulating temperature control, safety limits, and ignition programming into a user-friendly integrated control platform with easy front access for setup and troubleshooting.
You can cascade up to eight individual units in parallel or sequential modulation modes for needed control and optimization.
If you're looking to replace an old atmospheric boiler to meet the new DOE standards, you may want to consider a Hi-Delta. However, as with all equipment selection, it's best to reach out to your local manufacturer's rep to discuss the requirements of your application and what the best boiler option could be to meet your specifications.
In any case, installing a newer, higher efficiency boiler should only benefit the health and efficiency of your hydronic HVAC system!