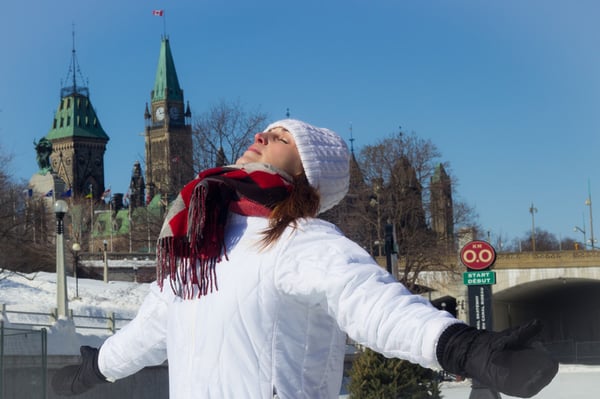 By now, we all know the advantages of using infrared heating for those special areas in designs with large open areas like warehouses, distribution centers, and maintenance facilities. Areas with multiple open doors and large open spaces are especially good candidates for infrared (IR) heating.
The top benefits of IR heating are:
Like the sun, infrared heats objects via energy waves
IR is not dependent on heating the air to provide comfort
It is one of the simplest and most effective forms of heating
As an engineer designs and selects IR heaters for projects, they perform due diligence to specify equipment to meet the load at the highest efficiency. The engineer will most likely use the AHRI standard variable, Infrared Factor, to ensure that the performance meets the design requirement. That selected equipment and advertised performance is then captured in the schedules.
But will the equipment really perform to the claimed level? Infrared heater performance often seems to be subjective.
The ASHRAE Handbook, HVAC Systems and Equipment, states:
Infrared heaters should be operated at rated input. A small reduction in input causes a larger decrease in radiant output because of the fourth-power dependence of radiant output on source temperature. Because a variety of infrared units with a variety of reflectors and shields are available, the manufacturer's information should be consulted.
AHRI states: In the U.S. or Canada, there are no certification programs that verify radiant output of infrared heaters, nor are there any third-party Nationally Recognized Testing Laboratories (NRTL) that can test infrared heaters for radiant output in accordance with Standard 1330.
What is a design engineer to do with basically no real standards to compare equipment?
The good news is this: AHRI has been reviewing the standard and testing in an effort to drive meaningful results. The original specification will be changed to provide data that will apply to real-life designs. Now, specifying engineers will be able to select equipment that will meet the performance that clients and building owners expect. To address these admittedly muddy points, AHRI is updating the specification.
The original standard measured performance by the Infrared Factor, IF. The IF is a combination of measured data points and equations. Issues with the test and equipment created excessive variation in the calculated results. The old IF is being replaced with a new constant called the Radiant Emissions Value, REV. REV will be calculated/measured in a clear and consistent way. Now, when a manufacturer states they meet the AHRI spec, everyone will have a clear understanding of what that means to the performance of the equipment in the design.
The three major changes proposed to the 2015 Standard are:
The Infrared Factor [IF] will be replaced by the Radiant Emission Value [REV] to provide a metric for radiant output that is more relevant to system designers.


Testing equipment specifications will be updated to more tightly control the design and manufacturing of the Ulbricht sphere, a critical component of the radiometer. This change is in response to data that showed inconsistencies in current radiometer equipment. Test results obtained by the PTB [Physikalisch-Technische Bundesanstalt] lab in Germany, showed that the standard required a more precise construction of spheres to eliminate these inconsistencies.


Coverage for multi-burner continuous tube low-intensity systems will be included in the standard to allow ratings for this product class and to harmonize with the latest European Standards for infrared heaters.
In the interim, information on infrared heater performance that is based on testing in accordance with Standard 1330 shall include the following reporting criteria, as specified in Section 7 of the 2015 Standard:
Model number
Heat input, kW [BTU/h]
Length of heat exchanger tube including length of U-bends and elbows measured through the center-line [radiant tube infrared heaters only]
Infrared Factor
Minimum angle [shall be specified if it is not tested in a horizontal position, Deg]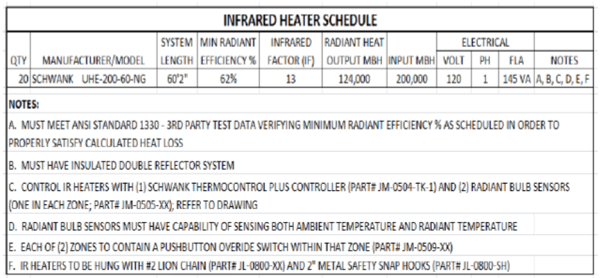 This is good news for the engineers of the world who want to be sure that the equipment they select actually works for the application as intended. We love specifications and standards when it makes buildings more efficient and occupants more comfortable. As always, if you need assistance when you're making design decisions, contact you local manufacturer's rep.
Blog image courtesy (c) Can Stock Photo / ClickImages