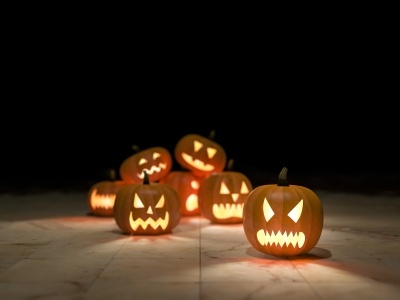 It may be the scariest place in your building. More dreaded than the hut at Camp Crystal Lake, scarier than that little girl with the vacant eyes and lank hair, worse than any house of horrors. The groans, the slamming sounds, the darkness….
It's the scariest place in town….your equipment room.
It looks like Halloween down there every day of the year. It's dark and dirty, there are cobwebs everywhere and there might even be a continuous Halloween soundtrack playing.
Do you dread going into the mechanical room? Don't! It's trying to tell you something. All those noises are indications that things are going on. Listen to them. Investigate why the noises are being created. Pay attention to the dark corners where equipment lurks, just waiting to break down at inopportune times. It could save you a scary amount of money in the future.
Is the floor wet? We're not a hotel for the Creature from the Black Lagoon or the shark from Jaws. Seriously, the water in your system is designed to be in the system. It's been chemically treated, filtered, and heated or cooled. Keep it in the system. If you're waiting for the leaks to heal themselves, the tricks on you. Those leaks are only going to get worse. That puddle is a hazard. The water is going to go anywhere and everywhere and it's a guarantee that it's going where you do NOT want it to.
Does your equipment moan like an old ghost when it kicks on? You don't need to have a séance to communicate with the equipment. Just listen. That could be a sign of air flow issues, pending ductwork horrors, or insufficient water or air flow. Look into it. There are treats to be discovered.
Do your pumps sound like chains of the dead are rattling around inside? You could possibly have ball bearings in your pumps! Or you have cavitation playing tricks on you. Cavitation will destroy your pump. Investigate what is going on.
Are the pumps moaning or have a high pitch screaming? High pitch noises are a potential sign of alignment issues. Check those pumps out asap. Or have a pump professional look over the installation and address the wailing.
Are there spooks and specters clanging to get out of your piping? It might be time to look at the supports and hangers in there. Can you identify when the banging occurs. Does it correspond with something turning on or off? Look at the piping in general. Is it droopy? How is the insulation, do your pipes look like they dressed up as the mummy for the holiday? How are the flues and exhaust vents? Combustion gas haunting places it shouldn't be is a very scary situation. That gas is a horror that's invisible and deadly. Keep it safely in the right place.
How many zombie movies have been written about contaminated drinking water? There are real, very scary, bugs all around. Some are dressed up like legionella this year. Keep the water hot and add a filtration system and don't give the ghouls a chance to hang out in your neighborhood.
Are your maintenance records frightening? There are two terrifying reasons for equipment failure: bad installation practices and lackadaisical maintenance. Be sure that your team is on the recommended maintenance schedule for all your equipment.
Sometimes the silence should scare you. You can now install equipment with Bluetooth capabilities that keep you updated on equipment performance that can help you move to predictive maintenance instead of reactive maintenance when something breaks down. If you're not hearing anything positive from your equipment, maybe it's time you should.
Ugly installations will horrify even seasoned building owners and engineers. If you're dealing with equipment vibration, motor failures, impeller disasters and clogged pipes, you should think about re-thinking your equipment installation. Adding a low-pressure drop strainer or committing to a laser pump alignment can save you thousands in equipment repair and down-time.
The thought of replacing aging equipment is downright terrifying. You KNOW that your boiler has been operating for 30+ years and, while it's been a good one, you don't relish the idea of figuring out what to put in its place. And you're ready to kick that finicky pump to the curb but you're too busy and reluctant to try a new manufacturer. Come out of that dark place and contact a manufacturer's rep to help you streamline your decision and keep the goblins at bay.
Just like Halloween, the equipment room should be a safe and enjoyable place for the holiday and all year around. Pay attention to it and it will be a happy place to visit. Keep the ghouls out trick-or-treating instead of inside your equipment room!