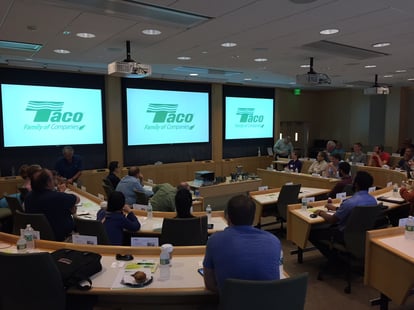 Continuing education is a critical component of our jobs these days. Technology is changing so rapidly, it's virtually (no pun intended) impossible to keep up with revised best practices, new equipment, and updated regulations.
That's one of the reasons why we launched the 11th Hour Credit Hour Seminar series in 2015. We knew that HVAC design engineers are often pressed for time and sometimes find themselves at the end of a year short on credit hours to keep credentials current. We also wanted newer engineers and others who don't hold the PE certification to have access to seminars to learn more about critical HVAC applications and technologies.
We're not pushing products. What we are pushing is essential knowledge engineers need to design more energy efficient systems to keep building owners happy long-term.
We invite you to join us. Whether you've known us for years or are just hearing the news about Heat Transfer Sales, we're interested in helping you get the information you need to be good/better/best when you design hydronic HVAC systems.
Take a look at the seminars we're offering in Charlotte and Raleigh this November:
Pipe Expansion Compensation (2.0 PDH): Jim Clauss of Metraflex will be with us to discuss pipe expansion fundamentals, expansion compensation, expansion joint and guide placement, tools, and more.
Air and Dirt DOES Hurt (1.0 PDH): Engineer Joe Britt will help you better understand the effects of HVAC system contamination and simple solutions to combat it.
HVAC Pump Best Practices (2.0 PDH): Engineer Andy Hayes will cover common issues with specifications, pump specification recommendations, circumventing installation problems, and more.
Why Do We Stlll...? (0.5 PDH): We will discuss the things that we, as engineers, have been doing for years that should be reconsidered, reworked, or outright banned!
PNC Arena Mechanical Room Tour (0.5 PDH): We will tour the mechanical room of PNC Arena to review the existing installation of boilers, pumps and more. For the Raleigh seminar series only.