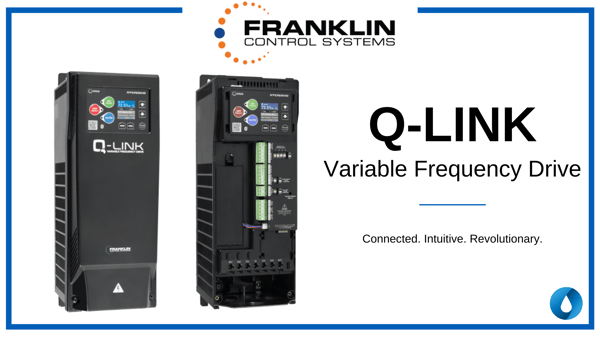 The world is getting smarter and smarter every year, and the HVAC industry isn't blind to that. Mechanical rooms are starting to become more modern with large touchscreens. Facilities managers and building owners are carrying around tablets to check on their commercial HVAC equipment. Service technicians are troubleshooting problems with HVAC systems through an app on their smartphone. This is why the HVAC industry began to innovate a new user experience when it came to variable frequency drives (VFDs).
Just about everyone understands the importance of having VFDs to help reduce energy consumption and maximize system efficiency, but does everyone know the benefits of having an intuitive, smart VFD, like the Q-Link? VFDs are changing just as rapidly as the rest of this smart world. They are getting smarter, and this will simplify installation and operation and make it safer for equipment operators.
So, how smart is your VFD? Well, if you have the Q-Link by Franklin Control Systems, here are 9 features that make this VFD a smart drive:
Smartphone operation via Bluetooth:

Manufacturers have developed apps in both IOS and Android platforms to enable users to wirelessly connect to VFDs and access the drive keypad.

Simple and intuitive LCD display
Designated HOA buttons
Native Communications (BACnet & Modbus): This allows for easy integration into your existing building control system.
Rᶾ Filtering for harmonic mitigation: This will reduce harmonic distortion in your system.
Meets latest harmonized UL standard
Built in damper control
Compact UL Type 1 Frame
Safety considerations, including finger-safe terminals with cover removed: Technicians are able to run start-up farther away from the equipment.
There are obviously many reasons to choose a VFD that is manufactured with the latest technology available. It's important for engineers, building owners and contractors to stay abreast of the best technology available for new construction and retrofit projects. Connect with your local manufacturers rep to learn more about what VFDs and other new equipment are available for your next project.
Watch the video below for a full look in the Q-Link VFD!
Image and video source: Franklin Control Systems