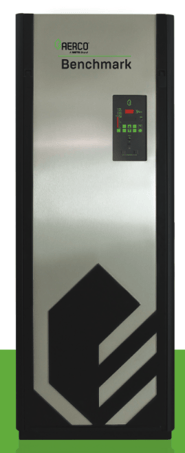 You've already determined that hydronic heating is what you need. And you probably agree that a high efficiency condensing boiler is a no-brainer. You may have even decided that you want a top-of-the-line product backed by a name you can trust. But what other things should you consider when selecting a high-efficiency boiler for your commercial applications?
Here are four things engineers might want to consider prior to selecting a commercial condensing boiler:
Advanced trim technology. It's no secret that some boilers are sensitive. Because they have advanced combustion control systems, it's critical that they have extremely precise air and fuel ratios to work the way they're supposed to and maximize efficiency. Look for a boiler with built-in self-adjustments to the combustion process so that your system can operate at optimal O2 With a built-in trim technology, you'll get increased reliability and better efficiencies along with lower emissions and the premium environment for condensing to occur.

Dual returns. Traditional boilers usually have single returns which forces the blending of hot and cold water temperatures. The efficiency is reduced in a single return system because the condensing zone is much smaller. However, with a dual return system, cold water enters the lower return and the hot water has a separate return. The condensing zone is significantly increased and efficiency can be increased by up to 7% in some boilers.

Remote monitoring. Some boiler systems have the capability to continuously monitor the health of your system and alert you of issues before they ever become a problem. With remote monitoring, you can evaluate plant efficiency and determine which units may need immediate action or need maintenance. Additionally, you can access a list of fault events with a suggested list of actions to take along with the ability to view trends. Having a remote monitoring system with your boiler can help you resolve any issues quickly and prevent more serious problems from developing to protect your investment.

A great warranty. You should carefully review the warranties offered by boiler manufacturers and ensure that they include an extensive heat exchanger warranty that covers thermal shock, condensate corrosion and, naturally, manufacturer defects. Look for more warranty protection on burners, controllers and parts.
These are just a few things to consider when selecting a commercial boiler. Your local manufacturer's rep is there to help you with other critical items like sizing so be sure to utilize that knowledge base before you specify a boiler for your next commercial building project.
Heat Transfer Sales of the Carolinas does offer a one-hour educational seminar on condensing boiler applications for engineers. Please click on the link below for more information.
AERCO Benchmark Platinum boilers (shown in blog image) do have all of the features mentioned in this blog. For more information on AERCO's Platinum boilers, click here.