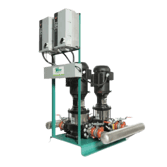 When it comes to your commercial HVAC system, two of the things at the top of your wish list are most likely to be flexibility and efficiency. One size does not fit all in the commercial HVAC industry. Each solution should be specially designed based on your application needs. Our manufacturing friends at Taco Comfort Solutions took this into consideration when designing and updating their domestic water booster solution. Now, they have a new and improved ideal pressure boosting solution for multi-residential and commercial buildings.
Check out a few FAQs below about Taco's pressure boosting solution:
What is Taco's ideal pressure boosting solution?
Taco Comfort Solutions fully integrated domestic water booster systems are the ideal pressure boosting solution for commercial buildings. These water booster systems are A single "plug-and-play" package solution, available in a wide variety of pump types, sizes, configurations and materials to suit your specific needs.
What are the benefits and features of Taco's water booster systems?
Integral controller in every drive

Complete redundancy built in
Electrical mechanical disconnect in every drive minimizes downtime

Grooved pipe coupling system for easy maintenance and reconfiguration

Flexible installation

Reversible connection locations
Grooved or flanged header connections

Taco TSL Constant Pressure programming

Standardized and Custom designs available

Compact design minimizes floor space

Single source responsibility

Factory designed & tested

Ready to install & operate
Controlled manufacturing environment

Quality engineered components

Built to the latest standards
Which configuration is right for you?
Simplex Configuration: Ideal for applications up to 125 GPM
Duplex Configuration: Ideal for applications up to 350 GPM
Triplex Configuration: Ideal for applications up to 750 GPM
Quadraplex Configuration: Ideal for applications up to 2,000 GPM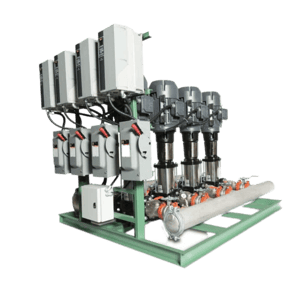 Where can you get this ideal pressure boosting system?
Get in touch with your local Taco representative, like Heat Transfer Sales. One of our team members will talk you through the process and figure out if this system is right for your application!
With pumps of all sizes and Taco's innovative variable frequency drives, you'll get the flexibility and energy efficiency you wished for with their booster systems. Give us a call today to see how they could benefit you and your space!
Blog content and image: Taco Comfort Solutions