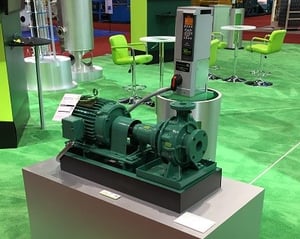 TACO Comfort Solutions has announced the new Optimized Efficency (Oe) package. Utilizing permanent magnet motor technology, TACO is bringing the largest ECMs available to the hydronic industry. In combination with TACO pumps, they are aiming to optimize overall efficiency with the latest technology available. It's important to note that these motors can only operate with a VFD and will be marketed exclusively through TACO's Self-Sensing product offering.

TACO's pump selection app and product configurator will allow you to select the Optimized Efficiency package.

What will you gain by choosing an ECM offering?
Superior performance
Longer service life
Lower maintenance costs
Decreased operating temperatures
The Oe package is available on the SCI, SFI, SKS and SKV models between 3HP and 30HP. All Oe pumps will meet or exceed Department of Energy regulations.
For more information, visit www.tacocomfort.com/oe-package/.