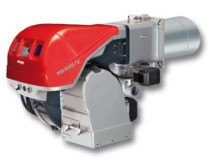 Our manufacturing friends at Riello took innovative, careful steps to design a burner that could fit many different applications, and that is easily noticeable in the R Series burners. Did you know that these burners were designed to offer a high degree of flexibility to meet the many different applications that arise in the HVAC industry today? Riello accomplished this is many ways, but there are three ways that particularly stand out!
Here are the 3 advantages of Riello's R Series burners:
The R Series burners are available in various models in order to conform to the requirements of differing projects.

The different models include gas and light oil fuel options.
There are configurations that can be made if a current model doesn't meet certain requirements.
Low NOx models are also available, which use an Advanced Combustion Technology during combustion of natural gas without the Flue Gas Recirculation. This enhances system efficiency and reduces system and installation costs.

Riello's excelled experience in combustion technology is brought out by the combustion head of the RS burner models.

This allows for smooth ignition, safe operation, and environmentally friendly emissions.
With minimal excess air, the system runs more efficiently and is able to reduce greenhouse gas emissions, such as CO2.

The R Series burners include an Electrical Panel, as well as the LMV3 Digital Linkageless Burner Management System.

The Electrical Panel increases flexibility and offers optional accessories that can easily be fitted on request, such as switches, indicator lights, alarm horns, etc.
The LMV3 Digital Linkageless Burner Management System is an electronic cam that is able to assure a correct combustion and safe operation over all the modulation range.
If you have any questions, please reach out to your local HTS salesperson!
Blog content and image source: Riello