Are you up to date on Taco's newest addition? Taco Comfort Solutions has recently released two new models for their PAX Series Potable Water Expansion Tanks, the PAX25 and the PAX10. The PAX Series Family now has a capacity range of 2.6-132 gallons (10-500 liters), which makes it more flexible than ever for your application requirements.
But, what makes these so different from other expansion tanks? The PAX Series Expansion Tanks use a heavy duty partial acceptance rubber bladder design for potable water systems, and they still provide permanent separation of air and water.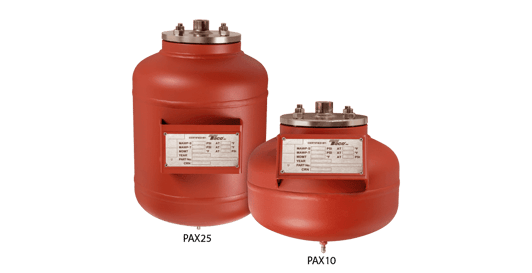 Here are 6 things you should know about the PAX Series Potable Water Expansion Tanks:
The PAX Series consists of 13 different

models

, varying in size and capacity.

These expansion tanks can range from

2.6-132 gallons of capacity and range in

height

from 12-85 inches

and diameter from 12-24 inches

.

The possibilities are nearly endless with these tanks so that the application requirements can be met.

It is design

ed

,

constructed

and tested to ASME Section

Vlll

, Div. 1 requirements.

"

This Division of Section VIII provides requirements applicable to the design, fabrication, inspection, testing, and certification of pressure vessels operating at either internal or external pressures exceeding 15

psig

." (asme.org)

Fulfilling these requirements ensures these tanks are of highest quality and performance.

All fabrication is done in house.

By Taco doing this, it ensures a high level of quality

.

Taco

makes choosing the right equipment easy with their computerized product selection.

This

will allow that the right

e

xpansion

t

ank is the correct fit for the application requirements

,

creating an overall easier process.

PAX bladder tanks use a field replaceable bladder to permanently separate the air and water.

This allows for the tank to be

precharged

on the air side to the minimum operating or fill pressure

, eliminating many gallons of water that is typically used to compress atmospheric pressure.

In a PAX bladder tank

,

the partial acceptance bladder is not attached to the tank wall like a dia

phragm tank.

It

is actually in the

bottom of the expansion tank utilizing an internal assembly connecting to the

stainless steel

system connection located on the top of the tank.
If you have any additional questions about these expansion tanks, please reach out to your local manufacturer's rep.
Image and blog content: Taco Comfort Solutions