Heat Transfer Sales will be utilizing some of our most innovative and specifiable products from our most respected manufacturers on this project. In particular, you will find products from TACO, Riello, and our very own pride and joy Pump n' Flo. HTS will be supplying items for the Hot Water System and Chilled Water System.

The Hot Water System will be powered by a Riello Array Boiler. This boiler is a pre-packaged boiler plant, becoming the new standard for efficiency, redundancy, and reliability. Each Array boiler utilizes multiple heat exchanger modules, providing high turndown and multiple boiler redundancy in one packaged unit. This single platform makes installation and commissioning a breeze.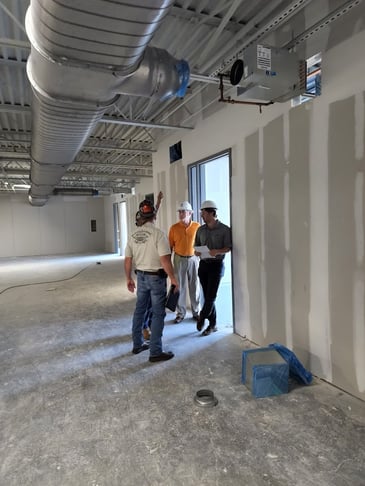 This boiler will supply heat through a Pump n' Flo Pump Package containing TACO pumps and a TACO Multi-purpose tank w/ internal pall rings to remove air from the system. The Hot Water will be pumped through a piping network containing Air Handling Units and Terminal Units provided by HES. Hot water is circulated through each Terminal Unit utilizing Taco's LoadMatch System.

The TACO LoadMatch system is becoming the next generation in the hydronic world. Instead of the typical two-pipe system (Hot Water Supply & Return) found in most buildings in the world, TACO LoadMatch uses a single pipe loop to supply heat to each terminal unit. Essentially, this single pipe system replaces the expensive, energy-consuming control valves and large pumps with small, low kW circulators. Overall it reduces the total amount of pumping horsepower found in a traditional two-pipe system. The circulators help deliver water to where it is needed, as opposed to forcing the water where it doesn't want to go. This system is self-balancing and won't require the tedious efforts that are typically found in systems with control and balancing valves. All of the loads operate separately from one another, helping provide consistent temperatures and better comfort to the occupants. This system offers substantial savings in raw material, installation costs, and energy consumption.

The Chilled Water System will be powered by a Daikin Chiller, provided by Hoffman & Hoffman. The Chilled Water will be pumped through another Pump n' Flo Pump Package using TACO KS Split-Coupled Inline Pumps w/ VFDs and a Buffer Tank using the same pall ring air removal technology as previously mentioned above.

With all of that being said, we are truly very excited for the Renovations at the Upper Asbury location to be completed and operating. This is a unique opportunity to use fully-operational, specialized systems as a showpiece and a method of training for customers and fellow employees.

I have been doing weekly job site walks and been working directly with the lead Mechanical Contractor, Ross & Witmer to review proper installation practices and provide training on how the equipment works. The progress being made at Upper Asbury is something to be proud of, not only for the H&H family of companies but for all of the contractors and tradesmen that have been working at the job site. It is a beautiful thing to see how effortless completing this project has become with all the hard work and dedication from our team members with Heat Transfer Sales and Hoffman & Hoffman. The renovations are expected to be completed by September 19, 2022 - stay tuned for more updates!