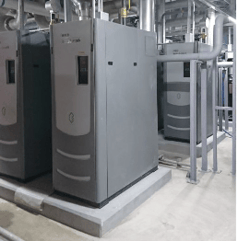 So far, the US has won five gold medals in the PyeongChang Olympic games. You probably knew that. But, did you know that AERCO is supplying hot water to five out of the six main hotels at the 2018 XXIII Olympic Winter Games in South Korea? True story.
AERCO has published a case study about one. AERCO is providing high-efficiency solutions for St. John's Hotel, the hotel hosting Olympic ice events at the 2018 XXIII Olympic Winter Games in South Korea. The hotel has 1,091 guest rooms, two outdoor pools, a lazy river, a fitness center and a restaurant.
Here are the highlights of the case study:
Problem: Hotel management and the engineered team determined that the existing, non-integrated pre-designed tank-based heating and hot water systems originally designed for the hotel would not meet performance criteria.
Solution: They installed nine compact Benchmark 3000 gas-direct fired boilers and AERCO B+II WaterWizard tankless steam-to-water heaters.
ROI: 30% reduction in installation time and costs, 30% reduction in fuel bills and 25% increased efficiency.
In my book, that's definitely worth its weight in gold. AERCO for the win!
To read the full case study, please click here.
To learn more about the latest addition to the Benchmark family, click on the link below.