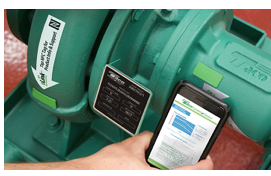 Innovation doesn't come easy these days. We're all so busy just getting things done day after day that it's tough to spend the extra time and thought energy into creating better technology, business practices and equipment. Innovation, however, is a critical piece in offering solutions that improve the customer experience.
Taco Comfort Solutions listened to customers by making it easier to connect them to product-specific information including product specs, model numbers, replacement parts, instruction sheets and more. They created the Taco Tags, small, flat, rectangular tags attached to all TACO commercial pumps, heat exchangers, air and dirt separators, and expansion storage tanks. The Taco Tags offer eLink cloud-based product support easily accessible from a mobile device.
For their innovative efforts, they have not only succeeded in making building owners, facilities managers and technicians happy, but they've also won the 2019 AHR Expo Software Innovation Award.
Winners were selected by a panel of third-party ASHRAE member judges. They had this to share about the Taco Tags: "The Taco Tag is an IC chip and antenna wrapped in silicone designed to offer durability under the most extreme conditions of heat and weather. It works using power from a user's devices, eliminating the need for wires or external batteries. Each tag provides direct access to customer support, along with all vital information specific to each product..."
Congratulations to Taco Comfort Solutions! We look forward to seeing what they come up with next.