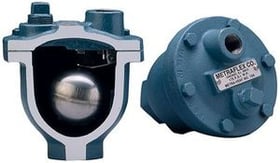 Metraflex has done it again! In their mini-series," Essential Product Knowledge… From a Distance, " you can learn all about different Metraflex products, quickly, but still in depth. If you've missed it, you can view previous episodes here. They are worth the watch!
Episode Four is hosted by Metraflex's Dan Kish and discusses the details of the MetraVent Air Release Valve.
Here are a few of our takeaways:
Extra air can get into your system, which causes it to be less efficient and will make the pump work harder than it needs to. This WILL cost building owners money. The MetraVent Air Release Valve is an easy solution! Just install it into the high point of your system, and let it work its magic.
How it works:

In the video, Dan shows the float and orifice where the air is vented out.
As the system is filled, air is vented through the small orifice. When fluid enters the valve, the float raises and it will shut off the small orifice, preventing any leakage.
If you get more air in your system, and it starts to accumulate, it will enter the valve, displacing the fluid. This float will drop, opening the orifice back up for the air to be released.
This cycle will be repeated as necessary, automatically.

A few installation and service tips:

It must be installed in a vertical position at the high point in your piping system.
The balanced inlet must be facing downward. Three different sizes are available.
Metraflex recommends placing a shutoff valve below each valve, if service is required, even though they are maintenance-free items.
If you do need to check to make sure that the air vent is working, you can remove the half-inch plug to see if any blockage has occurred.
Metraflex also recommends a drain line that can be added to the outlet.

The MetraVent Air Release Valve does come in two different pressure ratings.
If you need a Revit model to view all of the different sizes, you can find that here.
Watch the full video below!