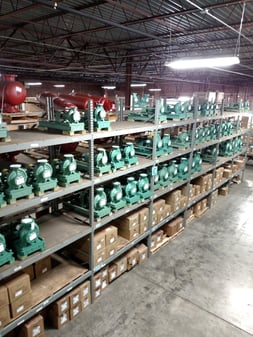 That's a question we get pretty often here in the parts department. These customers quickly become my personal favorites because they are planning ahead. I love customers who plan ahead! It means no one has to go crazy when a pump seal goes or an ignitor needs to be replaced in a boiler. All they have to do is replenish their spares and we can roll on – easy peasy.
So, just to help out, I thought it would be a good thing for me to list a few generic things to have on hand as spare parts.
Seal kit. Quick note – if you have a Taco pump that has a model number beginning with 16 or 19 (i.e.: 1919C or 1635B) all those pumps take the same seal kit and shaft sleeve. So if you have three or four of these pumps (1600 or 1900 series), it's a good idea to get a seal kit and shaft sleeve or two to have on hand
Bearings (if pump is not close coupled)
No seal kit is available for most of these pumps, so they have to be purchased individually
Seal
Casing Gasket(s)
Deflector
Shaft sleeve (pump may or may not have one)
Any other gaskets (seal gasket, etc)
Bearings (if pump is not close coupled)
Again, this will depend on which particular unit you have
Ignitor & Flame Sensor OR pilot assembly (depends on model)
Header gaskets
Seal kit for header pump (if your unit has a header pump)
Extra control board
Aerco has created an annual and 24-month maintenance kit for most of their units. We recommend having these on hand as well as an extra flame sensor & ignitor for emergencies.
These are just a few of our manufacturers. We have a lot more and we'd be happy to help you figure out what spare parts should be kept on hand. After all, it makes life a lot easier when you're prepared. If you purchase a new piece of equipment, ask your salesperson to contact us in the parts department once you've gotten the item on order. We can get you a list of part numbers and prices that you can keep and refer to for as long as you have the equipment (pricing may change, of course but you'll have a ballpark figure).
Or you can call the customer service department with your model number and serial number and we'll be happy to get you a list of recommended spare parts. Let us know what you're looking for and we'll try our best to help!
Post originally published July 2016.