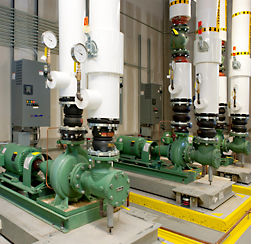 25% of currently available pumps will not be saleable as of January 27, 2020 due to new energy efficiency levels being implemented by the Department of Energy (DOE). This is big news for our industry and important for everyone from design engineers to contractors to building owners. TACO Comfort Solutions, PM Engineer and Plumbing & Mechanical Magazine are offering a free webinar in October to help professionals in the industry understand the new regulations.

This webinar will cover the scope of pumps affected by the new Commercial & Industrial Pump rules, the new rating system, test methods and performance requirements. It will also explore the industry's efforts to implement a new Energy Rating labeling program, which is similar in look-and-feel to the Energy Star appliance labels and can easily be used by utility incentive programs to incentivize the purchase of high-efficiency pumps.

Webinar Calendar Details:

Learning objectives:
Understand the scope of products covered under the DOE rulemaking
Pump Energy Index (PEI) is the new DOE metric - what it means and how it's applied
Learn the compliance timelines
See what the new pump label looks like and how it will help affect purchases of higher efficiency equipment
SPEAKER BIO:
Mark Chaffee is currently the Vice President of Governmental Affairs & Sustainability for Taco Comfort Solutions. He has worked at Taco for over 20 years and during that time has held key positions in new product development, product management, brand management and business development. He participated in the DOE rulemaking process for both commercial & industrial pumps and circulator pumps and is chair of the Hydraulic Institute's committee developing the Energy Rating and labeling program which aligns with the DOE rulemaking. He also serves as an industry leader and hydronics advocate through his role as chairman of the Radiant Professionals Alliance (RPA), board member of the Hydraulic Institute and a committee chair with the Air-conditioning, Heating & Refrigeration Institute (AHRI).
Blog image courtesy of Taco Comfort Solutions