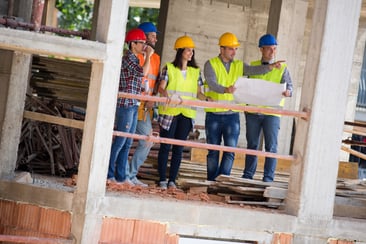 Today, you can get almost everything from the Internet. And, with the help of do-it-yourself warehouses and enterprising You-Tubers, you can pretty much get a home improvement project done in a weekend or two by yourself. We're rapidly becoming a society who doesn't need any help from outside sources. We can print our own legal documents, build our own bookshelves at home, fix our leaking pipes and sell our own houses. And, for the most part, it works pretty well.
Until it doesn't.
Most contractors, engineers and building owners understand that they need to order commercial hydronic HVAC and engineered plumbing equipment from a designated manufacturer's rep. But what you might not understand is the value-added service you get from a manufacturer's rep makes buying the equipment from a top-notch rep an invaluable decision.
Here are four ways that a manufacturer's rep can add priceless value to your next new or retrofit commercial hydronic HVAC and plumbing systems:
Expertise of sales engineers. If you're working with a manufacturer's rep who has sales engineers on staff, you're reaping the benefit of years of experience. Not only do they have the thermodynamics education you need but they also have the hard-earned knowledge gained only by specializing in hydronic HVAC and plumbing equipment. These guys know their stuff. If you need help sizing a boiler, they can help. If you experience a problem after installation, they can troubleshoot. If you're trying to retrofit equipment into an 80-year-old building, they can assist. They work with this equipment every single day, almost 365 days a year. That's a boatload of experience you can put to use.
A hotline to the manufacturer. If you have a problem on your site, you need it to get it resolved. You don't want to spend an hour on the phone to customer service. Working with a manufacturer's rep means you can make one phone call and let them help you resolve the problem while you troubleshoot other issues on your job site or work on other projects.
Product training. Manufacturer's reps can offer product training and information sessions for specific pieces of equipment. They can help design engineers understand how a particular solution fits in a building comfort system and they can offer service technicians and contractors a close-up view of how a particular pump, boiler or cooling tower should be installed or maintained.


Extraordinary customer service. The truth is, the only reason that manufacturer's reps exist is to help you. That's it. Without you, there is no business. You should expect your phone calls to be answered. You should expect your emails to be returned in a timely manner. Helping customers is what manufacturer's reps do. Finding solutions to your problems is not only a challenge but a joy for the best of the manufacturer's reps. A job well done and a satisfied customer is all in a day's work.
Manufacturer's reps are chosen by the manufacturer for a specific set of skills they can offer to the end-user. My advice would be to choose your manufacturer's rep based on the expertise they can offer and then let them help you select the right equipment for your building comfort systems. Many pieces of equipment can get the job done for you but only the right manufacturer's rep can help you achieve maximum results.
Are you interested in training opportunities in North Carolina or South Carolina? If so, click the link below to let us know what kind of training you'd be interested in. And register to win a FREE double-walled stay-cold/stay-hot tumbler from HTS!