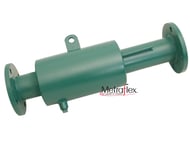 Continuing with our excitement with Metraflex's Essential Product Knowledge… From a Distance mini-series, Episodes Five and Six are a two-part series with loads of information in less than 10 minutes combined. If you have missed any of the previous episodes, you can find them here, along with some of our takeaways!
Episodes Five and Six are hosted by Metraflex's President, Jim Richter, and discuss the externally pressurized MetraGator and HP series compensator in-depth.
Here are a few of our takeaways:
There is the MetraGator, the expansion compensator and the copper compensator. They have identical construction, but the smaller diameters are referred to as compensators and the larger ones, actually pressurized.

The only thing copper on a copper compensator is the copper sweat ends. The rest of it is 100% stainless steel.

There is a shipping bar on all these products, copper and steel. This shipping bar has to be strong enough to last through shipping, but weak enough so the contractor can break it off in the field.
An o-ring is added to the traveling end and the gap to prevent debris from falling into the bellows, which helps to reduce premature rust damage.

The o-ring is made out of EPDM.
It is most important during the instruction of the building. After that, it's okay if it falls off, or wears off.

The unique feature that makes this an externally pressurized joint is how the flow, the water and the pressure get on the exterior of the bellows.

One side of the bellows is completely exposed to atmosphere, not to the water in the system or the pressure of the system, hence the term, "Externally Pressurized."
The water ends up on the outside of the bellows on both sides. A bellow that is stabilized from the outside is much more stable than internally pressurized bellows.
Therefore, it can be made longer so that it can have a much bigger stroke.

There is a bump on the outside of the piece of equipment.

This bump is a stop that is to prevent over-extension of the joint.
It will prevent the bellows from over-compressing.
Watch the two-part series below!