Metraflex has created a great gold mine of resources in their YouTube mini-series, "Essential Product Knowledge…From a Distance." Episode Twelve from their mini-series is hosted by Dan Kish, who discusses how the MetraSeal creates a water-tight seal around any pipe. Here are a few of our takeaways: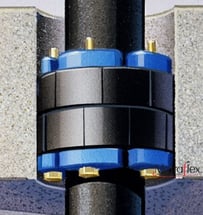 What is a MetraSeal? A MetraSeal is a pipe penetration seal that fills a space around any round pipe creating a mechanical watertight seal. This seal is permanent and is rated at 20 psi, which is 40 feet of head. It will seal out any groundwater and will absorb noise of vibration.
How does a MetraSeal work? You will install the MetraSeal around your pipe by wrapping the seal belt around the pipe and connecting the first and last links. Then, slide the assembly into the space between the pipe and wall. Lastly, tighten the bolts. You can find detailed instructions with images here. When you tighten the bolts, the pressure plates compress and the rubber seal expands to fill in the gap between the pipe and the wall.
Are there different types of seals available? Yes! The standard one available is the EPDM seal that comes with steel hardware and glass reinforced plastic pressure plates. This is the one used for most applications. For different applications, like for oils or wastewater, Metraflex offers seals with nitrile. For high temperature applications, like steam lines, a high temperature silicone seal is also available.
How do you select your seal? On the Metraflex website, there are wall penetration seal calculators that can help you determine this. For the calculator, you will need the pipe type, the nominal size and the size of the hole of the pipe. That's it! The calculator will then tell you exactly what seal you need. If your pipe isn't completely centered, that's okay. There is a separate calculator so that you can create an off-center seal.

Check out the video below!
If you have any questions about Metraflex products or applications for projects, you should contact your local manufacturer's rep.
Blog and image source: Metraflex