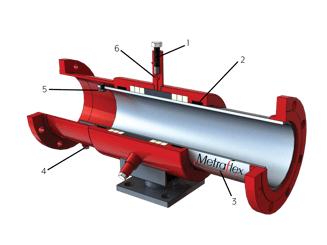 Metraflex has quite a long list of commercial HVAC system solutions, recently highlighted in their product knowledge video mini-series. Episode Ten from their mini-series is hosted by Dan Holbach, who talks in detail about the MetraPak expansion joint. Here are a few of our takeaways:
The MetraPak is great for axial compression extension only. It will not give you any lateral or angular offsets.
This expansion joint is ideal for high pressure, high temperature applications. It can handle 1,000 psi at 700˚F. With this high temperature, comes thermal expansion. Fortunately, this is okay because the MetraPak joint gives you 24 inches of thermal compensation.
The MetraPak uses packing material to retain pressure. The packing is tightly compressed between the housing of the joint and the chrome-plated slip tube. When the joint is compressed, the slip tube slides into the housing of the joint and the packing material forms a tight high-pressure seal.
The packing material will last a long time with no leaks, but eventually a leak path will develop, and that is OKAY. This is not a defect or a reason to call the factory. This joint was made for repacking without shutting the system down.
Here are the steps to repack a packed expansion joint:

First, close the shut-off valve so no system media can escape.
Next, pull out the packing cylinder. It unthreads.
Once the packing cylinder is out, you will add in the packing material, ram the packing cylinder back in, engage the threads, and tighten it down to create a tight seal.
When the seal is tight, you can open the shut-off valves and start to slowly crank down the nut on the packing cylinder to get the packing material into the expansion joint.
Keep packing the material in until the leak path is stopped.

There are two types of packing material. These include a PTFE packing material and a graphite packing material. Never mix these two materials. Find out what packing material was factory-installed before repacking your joint.
Check out the video below!
If you have any questions about Metraflex products or applications for projects, you should contact your local manufacturer's rep.
Blog and image source: Metraflex