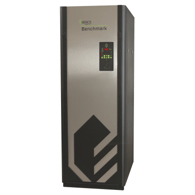 AERCO has some good news to share for engineers, facilities management and building owners.
Incorporating AERCO's highly reliable, stainless steel fire-tube heat exchanger, the Benchmark Platinum provides engineers, facilities management, and building owners with the flexibility to fit in both retrofit and new construction that require one or multiple boilers.
What's great about the new Benchmark Platinum?
From our perspective, we're pretty excited about the onAER remote monitoring that comes standard* with the Platinum. It allows building owners to see what's going on with the system with proactive performance and health-of-system monitoring. Users can view (from a distance!) boiler plant operation and status, system performance and alerts for faults or maintenance.
Additionally, the Platinum features:
AERtrim: Patented O2 trim technology
Dual returns for maximum efficiency and application flexibility. Most traditional boilers only have single returns. The dual returns system allows engineers to design a customized system to keep cold water separate which creates a larger condensing zone to enhance boiler efficiency by up to an additional 7%.
Industry-best warranty
Check out AERCO's video below.
*onAER remote monitoring is available as a subscription with some other Benchmark products. The subscription is free with the purchase of a Benchmark Platinum for a specified time period.