Griswold Controls has a series of application tips that can assist HVAC design engineers, building owners and contractors.
In this two-page application tip, Griswold Controls explores:
the function of 3-way valves compared to 2-way valves

why 3-way valves installed in a variable speed system hinder energy savings

overflow and underflow issues

how pressure independent control valves (PIC-V) work
Click on the image below to read about how you can make simple design changes to capture energy savings and maximize efficiency.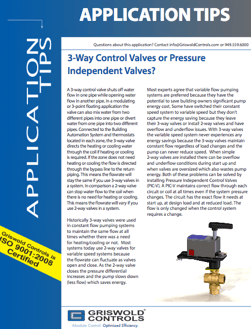 Design engineers looking to learn more about hydronic solutions and earn PDH credits can schedule free Lunch 'N' Learn sessions for their company or group. Click below to schedule a session with our experts.