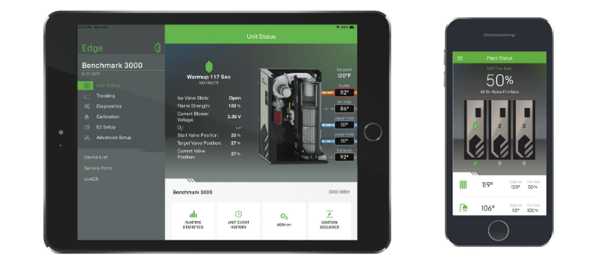 There is an app for everything. Apps have even filtered into our HVAC system management. Even condensing boilers can be managed effectively with an app. AERCO has introduced the Edge Controller with a mobile app to accompany their Benchmark Platinum condensing boilers.
What does the Edge Controller and the requisite Edge app do for building facilities teams? It is designed to make system operation easier, resulting in an overall lower cost of ownership. It also helps with flow balancing, combination plant setup, Combustion Calibration Assists, and a direct service form connection to AERCO through the app.
Here are three benefits building owners can realize with the Edge Controller.
Save time and money by reducing installation and start-up costs.

Flow Balancing eliminates balancing valves and reduces commissioning costs.
Built in communication for BACnet IP, BACnet MS/TP, Modbus IP, Modbus RTU.
Save on boiler plant size and initial investment by using swing boilers.



Simplify start-up and maintenance.

Calibrate units with assisted or manual options, saving up to 50% of time required. The assisted option offers guided steps that automatically adjust precise air/fuel ratios for optimal performance. The manual option provides all parameters in a comprehensive user-friendly interface.
View unit and plant performance details without sifting through screens.
Upload known settings so there is no need to re-do steps for every unit in the boiler plant.



Strengthen performance by optimizing the overall system and increasing efficiency.

Easily troubleshoot with visual ignition sequence.
Allows AERCO boilers and water heaters to operate with a single controller.
Provides easy combination plan setup.
Allows facilities to trend multiple parameters at once for greater insight into HVAC system health.
The accompanying app gives facilities teams all the functionalities of the touchscreen controller but gives you advanced diagnostics and configuration on a large screen if you're using a pad. The app allows technicians to move around the unit instead of remaining in place at the touchscreen when configuring, diagnosing, and troubleshooting.
If you have questions about the Edge, contact your local manufacturer's rep for more details.
Blog content and image source: AERCO