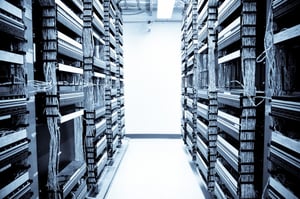 "Mission critical" is defined as "an activity, device, service or system whose failure or disruption in normal business hours will result in the failure of business operations." When mission critical equipment is down, the bottom line of a business is severely impacted. In some applications, such as hospitals or other critical care facilities, there are even lives at stake.
Another application we simply can't do without in modern business is data centers. Data centers house critical IT operations and equipment systems that are vital to today's businesses. The security and reliability of data centers around the world is of paramount concern to business owners everywhere.
And that's where Taco Comfort Solutions comes in. Taco offers Mission Critical Rated Products to help data centers increase:
efficiency
reliability, and
longevity
Taco offers four tiers of Mission Critical Rated Products, including pumps, multi-purpose tanks, buffer tanks, plate and frame heat exchangers, and high efficiency air separators are dependable Mission Critical Rated Products. These products are dependable, energy efficient and corrosion resistant.
Find out more about these products and why hydronic cooling components already comprise up to 41% of the data center market and are projected to grow in data centers 12-15% annually until 2022.
Click here to access more information about Taco's Mission Critical Solutions.
Click here to access Taco's Mission Critical Solutions product catalog.